With the hundredth anniversary of the sinking of the Titanic almost upon us, I decided to raid the archives for this post.
Writing Between the Lines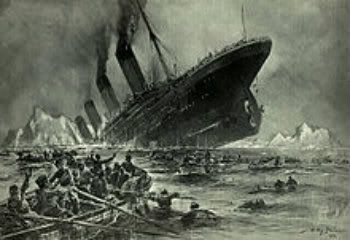 What is it about the Titanic we find so compelling?  Yes, it was an epic maritime disaster, but it occurred a hundred years ago, and we already know how the story ends.  Still we line up to see the latest movie version and read the newest book, even if it means waiting through forty-two library holds.
It felt like impending disaster when my husband invited me to his soccer association dinner.  Its purpose–to thank board members' wives and husbands for tolerating their spouses' hours of service to the association when they could have been home cleaning out the garage.  My preferred gift would've been to not have to dress up and go to a fancy restaurant with a bunch of strangers.  I saw icebergs flashing before my eyes, and headed for the lifeboats.
Me:        "I don't know if I can find a babysitter for Bea."
Thom:   "She's seventeen years old."
View original post 590 more words